There are four ways to order our products:
On-Line Ordering (below) through PayPal.
Phone: 970-925-4954 (have credit card information ready)
Mail: Aiki Works, Inc., PO Box 7845, Aspen, CO 81612(checks, money order, credit card accepted)
International orders: It is best to contact us before ordering for shipping costs. If you order through PayPal and the standardized shipping costs do not cover postage to your address, we will contact you for additional postage. Please contact us for shipping costs if you are not purchasing online.

Three Deep Breaths provides a simple technique that you can use, no matter how busy you are, to transform tough situations into positive, energizing experiences. It is a mind/body technique that combines the "cognitive-restructuring" capability of the brain (the ability to change our attitudes and perceptions of the world) with the calmness and presence of an aligned, centered state of being.
Thomas Crum illustrates this radically simple technique through the story of Angus, who is struggling to break through the negative habits that lead to anger, exhaustion, and poor performance. By working with our breath, by being aware of it and using it as a focusing tool, we can open up a whole new world of possibility.
This attractive book, with a forward written by Mark Victor Hansen, author of
Chicken Soup for the Soul
, will make a great gift for your family and friends.
In Thomas Crum's wonderful story you may discover what you felt has been missing…. ..until now.
Dr. Spencer Johnson, Author, Who Moved My Cheese and The Precious Present
Published by Berrett-Koehler Publishers

Paperback:
ISBN:978-1-57675-630-0 Retail price: $14
Special web pricing: $10 plus shipping.
---
---
This book by Tom Crum features humorous and poignant stories on the exploration of centered and uncentered states. Whether in Southeast Asia or his backyard in Aspen, Tom finds adventures that constantly amaze, entertain, and enlighten.
What a delightful book! Journey to Center has a vital message, but the message never get in the way of the fun. And a big part of the fun is getting to know the adventurous, high-spirited, and wonderfully candid author. I savored this wise and enchanting book from cover to cover.
George Leonard, Author of Mastery and The Ultimate Athlete
Published by Simon & Schuster
ISBN: 0-684-83922-9

$10 plus shipping.
---
---

Read Tom's remarkable best seller and gain a deeper understanding of conflict and personal growth. Learn how conflicts don't have to equal contests. And read all about The Discovery Process, an exceptional tool for living with reduced stress and increased excitement.

An invaluable source of wisdom.
Larry Wilson, Founder, Peco River Ranch and Wilson Learning
Published by Simon & Schuster
ISBN: 0-671-66836-6

$13 plus shipping
---

This four volume series allows the viewer to participate in a live workshop by Thomas Crum on The Magic of Conflict approach. The topics of The Nature of Conflict, Reaching Your Centered State, The Power of Discovery, and Taking Effective Action are covered. Now availabe on DVD as two disks.
DVD
Produced with CareerTrack
$49 plus shipping
---
---
The Creative Resolution of Conflict

One of our best selling products, this DVD features excerpts from a workshop by Thomas Crum on the basic principles of his conflict resolution approach. It was filmed in 1985 and has an introduction by John Denver. Viewers still find it valuable! 56 minutes. Now available in DVD.
Produced by Aiki Works, Inc.
DVD
$29 plus shipping
---
---
Stress Management Videos/DVDs

The perfect stress management tool. A series of non-aerobic exercises for daily practice. Learn skills to integrate the mind and body for relaxation, stress reduction, and increased energy without having to leave your office or home. 45 minutes. Now available in DVD.
DVD
Produced by Aiki Works, Inc.
$29 plus shipping
---
---
A number of years ago, Tom Crum recorded many of his favorite stories, including his 'trademark' strawberry tale. We are now happy to offer these stories on a newly mastered CD. Beyond the Gold offers a unique look at relationship and moving beyond success. It is a perfect companion piece to Three Deep Breaths.
Published by Aiki Works, Inc.
$10 plus shipping.
---
---
Books by Thomas Crum Associates
From Chaos to Center:
A Training Guide in the Art of Centering

This practical guide by Judith Warner captures the training themes from Magic of Conflict workshops and presents them in a straightforward, easily understood format. Enhance the quality of your life by creating a personalized training plan you can immediately incorporate into your daily routine.

Published by Aiki Works
ISBN: 1-877803-10-3
$10 plus shipping
---
---
Unlikely Teachers: Finding the Hidden Gifts in Daily Conflict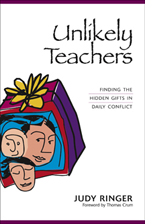 Judy Ringer's newly published book on aikido and conflict is a practicaltool to help you generate more power, presence, and flow in yourrelationships and your life. Much more than a "how-to" book on conflict management,
Unlikely Teachers
offers personal stories, reflection, and direction on how to managesomething more important—yourself. Take a moment to engage your best self, the self that is wise, aware, andresponsive. Direct the energy of conflict instead of reacting to it. And letlife be more fascinating, purposeful, and fun.
Published by OnePoint Press, 2006
ISBN: 0977614905
$15 plus shipping
---
---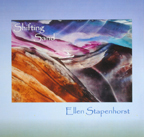 New Release! Eleven original songs from Ellen Stapenhorst, including eight brand new songs and three new versions of old favorites (If Not You, Grand Junction and Taking Our Lives). In response to many requests, Ellen recorded this CD mainly solo and live, so it has an intimate, living room feel. In her life and work of music, writing and aiki, Ellen has learned to enjoy "dancing on shifting sand", and brings her experience to her songs.
CD $15 plus shipping
---
---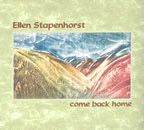 A musical journey of twelve original songs by singer/songwriter/AikiWorks trainer Ellen Stapenhorst. Includes the often requested "Traveler", "Walk on Earth", "Love's Reward" and "One Moment More", and musical backing by a host of Aspen's illustrious musicians.

CD $15 plus shipping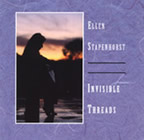 A collection of twelve songs including Feels Like Home and First Days of Spring, written and performed by AikiWorks trainer Ellen Stapenhorst. Ellen's songs capture the spirit of the Magic of Conflict, creating a melodic reminder of the importance of center in daily living.

CD $15 plus shipping.
Audio tape $10 plus shipping.
---
---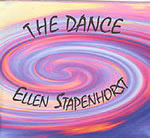 A delightful mix of original songs, with a thread of personal and global consciousness running through, from singer/songwriter Ellen Stapenhorst. Includes "If Not You", "Hold On, Little One" "Dinosaur", "Let Me Carry You", and of course the aikido-inspired "The Dance". Supporting musicians include David Darling, Shawn Colvin, Ann Hampton Callaway and Steve Stapenhorst.

CD $15 plus shipping.
---